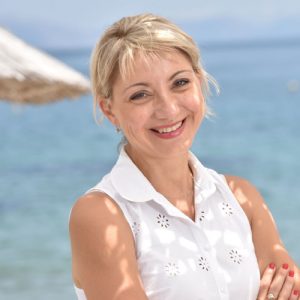 Kalimera from Paros!
My name is Eleftheria and I was born and raised in Bucharest from Romanian father and Greek mother. Since I was a child, I always loved reading stories about the Greek myths, gods and heroes.
I grew up in the urban districts of Bucharest, enjoying all my summer holidays in Greece, a fact that made me adore the sea and the sun. While earning a degree in business management, I spent the last couple of years working as a manager for a few hotels in Greece.
I enjoy working with the diversity of people that come and go in a hotel. It is interesting to meet so many different types of people. I can't wait to meet you, share the beauties of my country with you and discover your story as well!
I love swimming but also savour a good meal and a glass of good wine. I really like to enjoy everyday small things and share my passion for the Hellenic way of life.